At Complete Fire Systems Ltd our mission is simple:
If you have an existing fire system – we believe we can service it for you to the highest possible standard, for a competitive price and with customer service that is professional and focused.
If you are looking for a new fire safety solution – we aim to offer a total design to installation service within any budget and timescale to the best of our ability.
Dry Riser Testing - Dry Risers are a vital piece of fire protection equipment for buildings above 18 metres. They play a critical role in delivering considerable quantities of water in a high rise building. They can however be prone to serious neglect and vandalism so it is important to have them regularly maintained and serviced. Our engineers will carry out a full annual pressure test and six monthly visual check to the current British Standard Code of Practice.
Dry Risers
Wet Risers
Complete Fire Systems are a northern based fire protection company, who specialise in the testing of Wet Riser and Dry Riser Systems. We test and inspect riser systems to conform to BS: 9990:2006. We would hydraulically pressurize the riser either using our own fire engine or portable pump. Once the test has been completed we will issue reports and hydraulic test certificate.
We also carry out the supply and maintenance of Fire Extinguishers, Hydrant Testing and Fire Suppression Systems.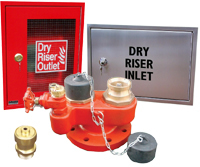 Dry riser mains are intended for use by the Fire Brigade and they facilitate the rapid deployment of water to help fight and prevent the spread of fire in a building. Dry risers are uncharged mains fitted into staircase enclosures or other suitable positions, with outlet valves on each floor and inlets fitted at ground floor level to enable the Fire Brigade to connect to the water supply.
Maintenance
The annual testing and maintenance of both Dry and Wet Risers is the responsibility of the property owners or managing agents.
British Standard BS 9990:2006. Recommends that the system is visually inspected every 6 months and serviced annually to ensure that the equipment is ready for immediate used in an emergency. In addition, it is recommended that a 'full wet test' be carried out annually, comprising of a full wet pressure test to 10 bar subjecting the main to a full working test.
Where
Buildings above 11 meters will have Dry or Wet Risers
Buildings above 50 metres will have Wet Risers
Service
Responsive
Testing carried out to BS 9990:2006
All testing carried out by fully qualified dry riser maintenance technicians
Supply full range of products for new and existing customers
Servicing arranged around times convenient to the customer
Minimum disruption to working environment
Service work carried out in line with the buildings fire risk assessment and fire certificate
We can also carry out remedial work to existing systems